Industrie's  recommended hydrographics tools and accessories
WTP AUSTRALIA Turnkey Business Solutions Available
Hydrographics Dipping tank (Machine)
An authorised good quality Dipping tank is one of the most important tools in the hydrographics process. Your business and output will be depended on the quality of the tools you choose to work with.
Our business has developed these tools since 2009 exclusively for Australian market and we keep improving design and quality with every model upgrade.
Our Australian Designed Hydrographics Dipping tank Machines come in standard sizes from entry level to large machines up to 3 meters. Our factory builds for all around the world and we can make them to size to suit your business production needs.

Accessories are also available with new design dipping tanks providing an  Air operated automatic hydro dipping arms available to connect directly to all of our model
Hydrographics Activator & PVA films
Hydrographics PVA film patterns are the core product in Water Transfer Printing.  These hydro dipping patterns will provide the 3D transfer printing design to all your surface coating on a printable substrate.
The Chemical (hydrographics Activator) is also a product which will assist with your pattern transfer during the Chemical reaction process.
The product you choose should be purchased by an authorised distributor who test and control the quality of the products.
Hydrographics Rinsing Machine
Although this is one very important stages of the process the automatic tools provide a fast turnaround time on your factory line.
They play a big role to the outcome of rinsing the chemicals out of the part after dipping however, this tool can be always purchased at later time as the business demands an automatic unit for rinsing as manual baths or washing areas can provide the same outcome.
Please contact our professionals for the correct hydrographics turnkey solution for your business.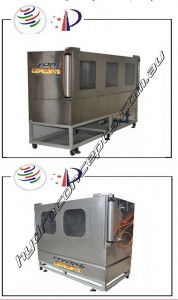 Other Water Tranfer Printing  business set up tools and accessories

Spray Booths / Infrared Heating lights
To meet the safety and professional standards in the industry it's important to obtain all necessary tools   this process requires. Our Team together with our business partners can supply a solution to meet the industry Australian standards within your budget. We have now designed a small Spray Booths for small operators to the larges size state of the art spay booths business requirements.  Heating lights are also a useful tool which can assist with involvement control temperatures across the hydro-graphic process.
Contact our office for more information on the solution available.
Paint System
These days a large selection of paint automotive systems are available which a hydrographics business operator is required to use as part of the process. Our team can provide you an approved hydrographics small paint system kit to a full paint system from any of our approved and sponsored business partners.

Air Compressors
A small air compressor is a requirement for operating Hydrographics Activation and the automatic arms if installed on the dipping tank. If the business has a Spray booth which operates in the same work space then the same compressor can be used if accessible.
Spray Guns
A number of quality gravity feed spray guns are also required as a tool. We recommend at least four gravity sprayguns 600ml to be purchased for a new business to cover the full paint and hydrographics process.
These tools will require to have specific size nozzles to meet the process which they need to be used.  Our training packages and support will cover all these information in detail during your business setup.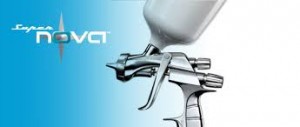 Safety gear
A number of safety gear needs to be obtained when working with flammable products in the automotive industry. Setting up a business in different parts in Australia will require certain safety criteria to be achieved for your business to operate legally. Please consult with us and your local law experts to obtain the safety standards you need.